Blog
The topic for Year 3 this term has been the Stone Age. So in DT we found out about the tools that were made during that time, how they were made and for what purpose. We then spent our DT day designing a range of Stone Age tools including spears, arrows, axes, hammers and shovels. Using stones that we had collected, bamboo sticks, glue and string we then made our own tools. We found it worked best when we worked as a team and helped each other when sawing and tying. By the end of the day we had tools and weapons that any Stone Age tribe would have been proud of.
24th October - Year 1 Dental Nurse Visit
Today, year 1 were lucky enough to receive a visit from the dental nurses at Lion Health! During the session, children were reminded of the importance of brushing their teeth, drinking lots of water and trying not to eat too many sugary foods. The children then had to rate whether a variety of foods were healthy or unhealthy. This helped address some misconceptions over what is good and bad for our teeth. The children thought that the messages were so important that they should make posters to raise awareness to the rest of the school.
24th October - Year 1's Autumn Walk
Today, year 1 went on an autumn walk which involved exploring the school grounds to find signs of autumn. We used our iPads to document what we found and also ticked off the signs of autumn on a checklist. We came back to the classroom and discussed everything we had seen. We found lots of leaves on the floor, mushrooms, conker husks and lots of coloured leaves!
Reception and The Little Red Hen!
In Talk for Writing our Reception class have been learning the story of The Little Red Hen. Unlike the other characters in the story, the children all said that they would help her to make the bread. She was so impressed with this, that she baked us lots of delicious treats to try. Thank you Little Red Hen they were all delicious!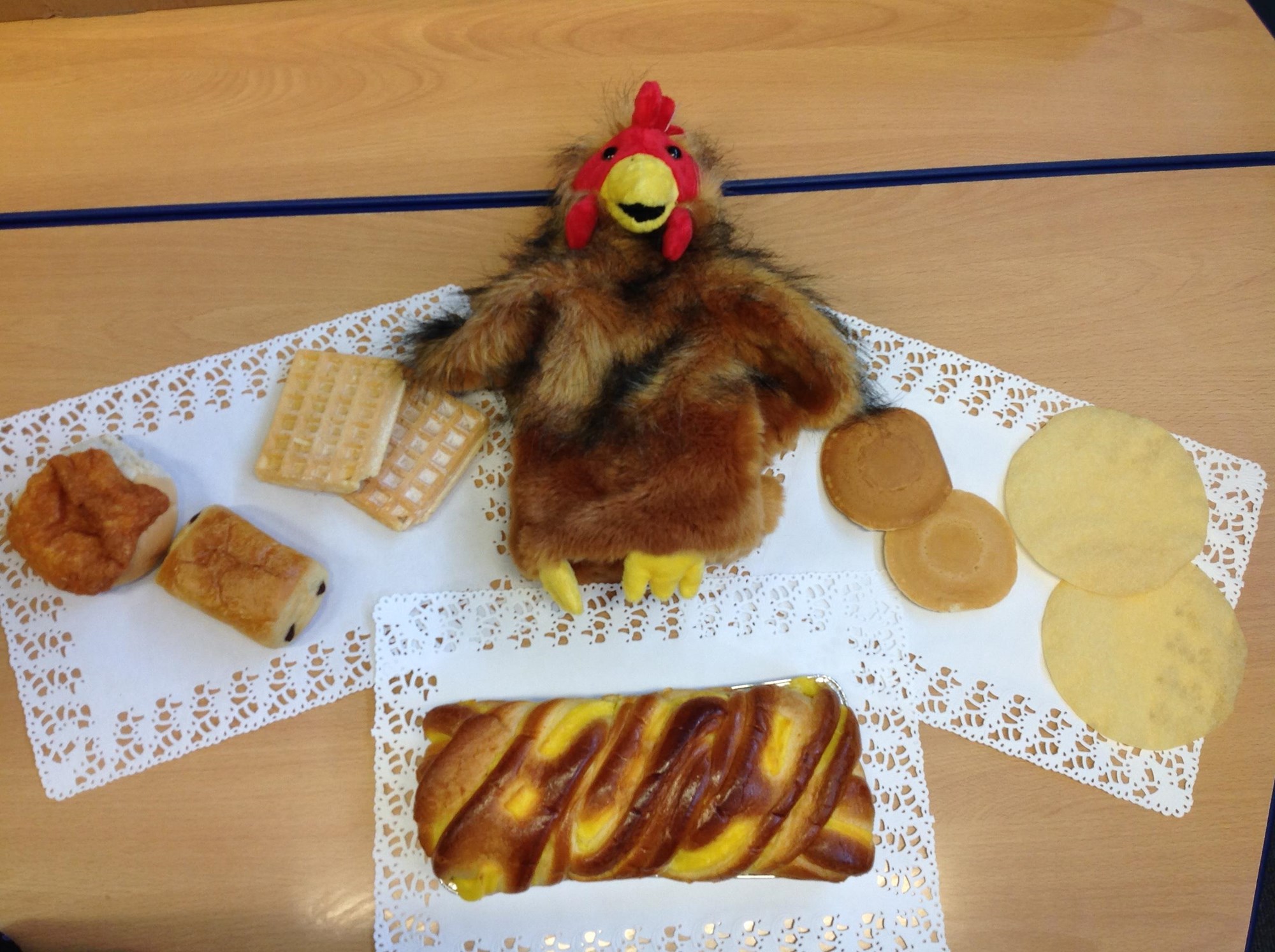 Life Education - Mobile Classroom
On Wednesday afternoon, Year 6 visited the Life Education mobile classroom to learn about keeping healthy,including influences on our decisions and how medicines and drugs can affect the body. They put in so much effort into their learning that they had a special visit from Harold the Giraffe at the end of the session (at their request!).
On Tuesday afternoon, Year 5 and 6 held a Tag Rugby Festival. Each child was involved in playing tag Rugby games and everyone took part in a match. Well done to all of the children for the enthusiasm they put into their games and matches.
On Monday, Y6 was transformed into a Greek restaurant. We practised our cooking skills and learnt new skills to make flatbreads, hummus and tzatziki. We then tasted our food and evaluated.
On Monday, year 1 made hand puppets for DT day. They started the day exploring what a good hand puppet looks like and decided that they wanted to make their own puppets to help them with retelling their favourite stories! The children drew up and labelled some designs and decided how they would join their pieces of felt. They then worked hard to cut and glue the felt pieces together before decorating them to create some amazing puppets - well done year 1!
Here are some more photos of us in action!! We've had a calm night and are off for our last few activities before coming home.
Learning about light and how we see!
As part of our learning about light and how we see, Y6 made periscopes. We sneaked around the school using our periscopes to look in spaces where our vision is usually obstructed.
We're having a fantastic time so far!! Here's some of the things we've been up to!!
Year 6 celebrated 'National Poetry Day'. The theme this year was 'Truth'. We explored the meaning of 'truth' and wrote our own poems. Here we are sharing our poems with each other.
We've received a lovely certificate today from the Black Country Foodbank, thanking us for our donations.  Well done to all our Parents and Pupils for this incredible effort!!