Implementation
We have been part of the DfE funded Maths Hubs programme for a number of years., therefore our maths curriculum encompasses the key elements of teaching for mastery: mathematical thinking, fluency, variation, representation and structure and small steps teaching.
What is teaching for mastery?
Mastering maths means pupils of all ages acquiring a deep, long-term, secure and adaptable understanding of the subject. The phrase 'teaching for mastery' describes the elements of classroom practice and school organisation that combine to give pupils the best chances of mastering maths. Achieving mastery means acquiring a solid enough understanding of the maths that's been taught to enable pupils to move on to more advanced material.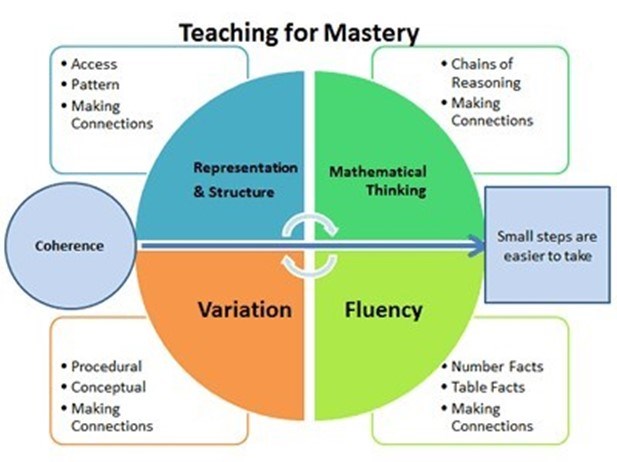 These 'Five Big Ideas' underpin our teaching for mastery approach, alongside cohesive implementation of Concrete, Pictorial and Abstract learning (CPA). Our children engage with a wide and varied range of concrete manipulatives, pictorial representations and abstract methodologies within each session.

Each maths lesson is divided into evidence-based sections. Lessons are busy and interactive with children working independently, in pairs, in groups and as a class.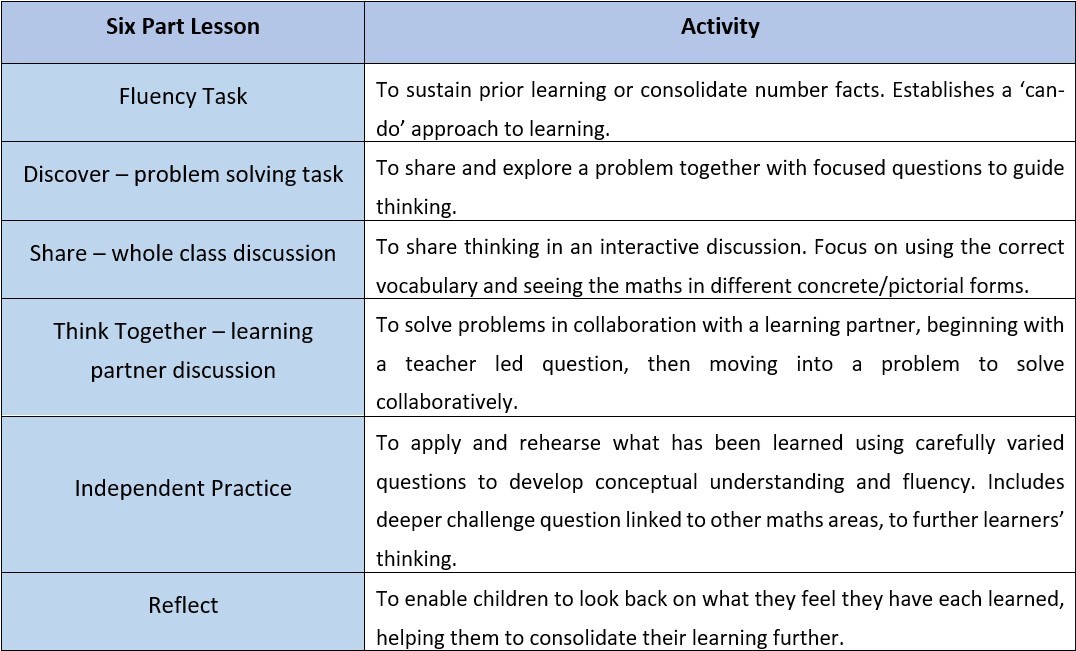 Most lessons will incorporate concrete resources and these are available for the children to access in all lessons. We have invested in a wide range of practical resources to support maths learning in this way. Concrete resources allow our children to construct their own mental models for mathematical ideas and encourage flexible thinking skills.
To support us in delivering a teaching for mastery approach and ensure whole school consistency and progression, The Ridge uses the DfE approved 'Power Maths' scheme which is fully aligned with White Rose Maths schemes of learning. Power Maths is a resource that has been designed for UK schools based on research and extensive experience of teaching and learning around the world and here in the UK. It has been designed to support and challenge all pupils and is built on the belief that everyone can learn maths successfully.
We supplement Power Maths lessons with a range of alternative high-quality resources from providers such as NCETM and Nrich, to ensure that teaching is adaptive to the needs of our children.
Mathematical Language
Correct mathematical vocabulary is modelled alongside accurate definitions by teachers each lesson. We use highly structured stem sentences, which promote oracy and provide pupils with a way to communicate their ideas with mathematical precision and fluency as well as clarity.
Children are expected to use mathematical language independently when talking about maths. Vocabulary is displayed clearly on working walls and is referred to in every lesson. Teachers use a range of questions to probe pupil understanding throughout the lesson, taking some children's learning deeper. For example: How do you know? Can you prove it? Are you sure? Can you represent it another way? What's the value? What's the same/different about? Can you explain that? What does your partner think? Can you imagine?
Responses are expected in full sentences, using precise mathematical vocabulary.
Maths Meetings
Outside of our daily maths lessons, our children also take part in maths meetings. Our Maths Meetings are a vital part of our teaching for mastery approach. Their purpose is to consolidate key areas of mathematics or introduce new topics to the class. They may also be used to develop number sense and fluency – both conceptually and procedurally. Maths meeting sessions give children the opportunity for repeated practice of basic skills and concepts (fluency, consolidation, mastery of what has been taught). They also provide an opportunity to establish positive classroom culture and making connections with mathematics in everyday life.
Number Fluency
Fluency in mathematics is an essential part of our teaching for mastery curriculum and is made up of five key components: accuracy, efficiency, flexibility automaticity and number sense. Throughout Key Stage One and Key Stage Two, we build on the number sense work that has already begun in the Early Years.
To develop confidence and flexibility with number sense:
We deliver the NCETM Maths Hub 'Mastering Number' Programme, which places a significant emphasis on developing a strong grounding in number (Reception – Year 2)
The maths lead has developed a Number Bonds Club programme throughout KS1 to teach and assess addition and subtraction fact fluency. From Year 2 onwards we have developed a multiplication and division clubs programme to develop and monitor progress. This is monitored weekly by class teachers and support staff and half termly by the maths lead
We have mapped a programme of key instant recall facts that children from Kindergarten to Year 6 learn each half term to develop their fluency skills and ensure they are ready to progress to their next stage of learning
Daily maths lessons and maths meetings develop fluency in calculations, which is an integral part of our maths curriculum.
Technology to Support Fluency
We have purchased a Numbots app account for all children from Reception and throughout KS1, which is an award winning programme designed to help teach addition, subtraction and number bonds in a fun, gamified way.
We have also purchased a DoodleMaths account for all children throughout school from Reception up to Year 6, which is another research led programme. DoodleMaths is a fully curriculum aligned adaptive learning resource. It accelerates learning, consolidates knowledge, plugs learning gaps, tracks progress and boosts children's confidence and resilience.
We have incorporated regular use of these apps into our home learning expectations to further develop children's fluency skills and they are accessible daily in our after-school club sessions to encourage children to get into good daily routines.
Intervention
In mathematics, new learning is built upon previous understanding. In order for learning to progress and to keep the class together interventions need to be timely.
The need for intervention is determined by teachers in response to a learner's performance in a lesson or series of lessons. Children receive targeted support through small group and individual interventions to ensure every child succeeds.
Following monitoring and consultation with the maths lead or SENCO, timetabled intervention programmes are available for children with SEND. Children with a specific mathematical need referenced as a target on their IEP will have specific intervention to support them in reaching that target.