A message from the Headteacher
We are delighted with the positive start made by the children to this new school year; they have quickly settled in to their new classes and are working hard. It is also lovely to see our new Reception children so happy at school.
We are looking forward to welcoming you to our Consultation Evenings this week, where you will have an opportunity to meet your child's new teacher and find out how they are getting on. Our new on-line booking system has had inevitable teething troubles for one or two (thank you for your patience) but hopefully everyone has been able to arrange appointments with the relevant member of staff.
We look forward to seeing you at our Harvest celebration on Friday 12th October. The morning assembly will begin at 10.00am and there will be a repeat at 2.15 p.m. (please only attend once). Because of swimming, Year 4 will only be taking part on the morning.
We will again be supporting the Black Country Food Bank, which as you may have seen in the local press, is desperate for donations to provide nutritionally balanced emergency food-aid for local people in crisis.
Recently members of our School Council were fortunate to visit the Storehouse and see at first-hand the wonderful work that the Black Country Foodbank does.
Items that can be donated include...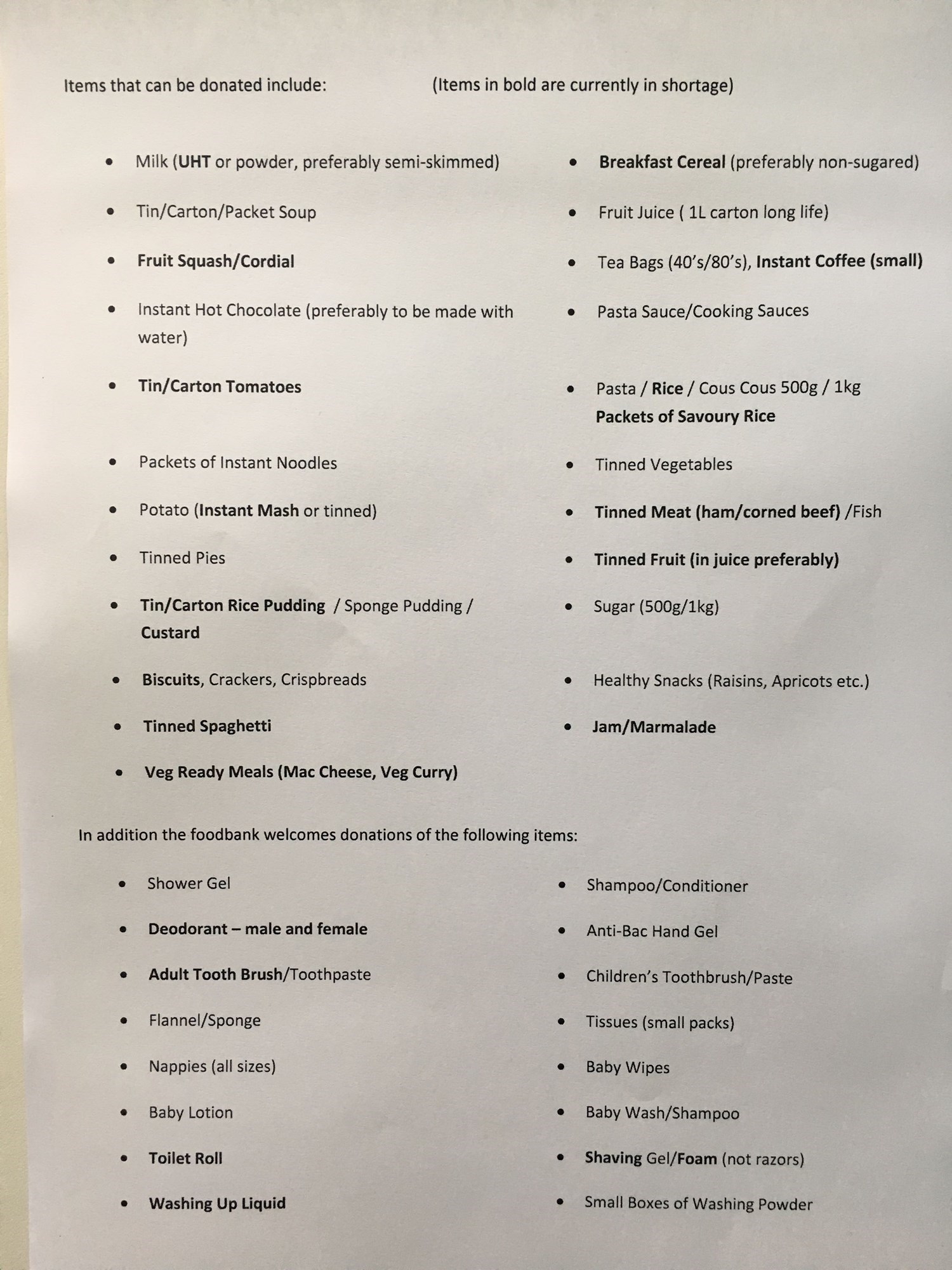 Please bring your donations into school on the morning of our Harvest on Friday 12th October: we are also happy to receive carrier bags, which not only help with transporting the food to the foodbank but are used to send food packages out from the food bank.
We would greatly appreciate any help in setting up our Harvest display on the Friday morning. Thank you.
The staff and children are looking forward to sharing this occasion with you.
Photography at School Events for Use on Social Media
We are delighted that you want to capture happy memories by taking photos of your child taking part in school events. However, please do not post photos on social media of children other than your own, unless you have explicit permission from the parents of any other children appearing in the photo. For some pupils in our school, photos on social media could constitute a safeguarding risk. Thank you for your support.
Some information for those of you who are new to our school, and a reminder for everyone else.
• Break time snacks - the children in Reception and Key Stage 1 are provided with a piece of fruit from the National Fruit Scheme to eat at break time. Children in Key Sage 2 can bring fruit but this is the only snack allowed at break times.
• Lunchtimes - packed lunches should not contain sweets or chocolate bars. However, a small chocolate covered biscuit (e.g. Kit Kat) is acceptable. All children having a packed lunch should bring a plastic plate to use as there is not enough room for the children to put their lunchboxes on the table.
Online Christmas Shopping - Think 'easyfundraising'!
Over £1,000 donated to The Ridge by parents and carers for free!
Many of you will have begun to think about Christmas shopping, and if you are buying gifts online you can make a real difference to our school - easily and at no cost to yourself by using 'easyfundraising'. You will no doubt have heard from the media about the challenges that all schools, including The Ridge, face to make the budget balance, but with your help, we can continue to attract additional income to support the learning of our children.
There are over 3,00 retailers easyfundraising including big names such as Amazon, Ebay, Argos and Marks and Spencer. Starting your online shopping first at easyfundraising and check if the retailer that you want to use is part of the scheme, then go to the retailer's website from easyfundraising and shop as normal. retailers make a small donation to say "thank you". easyfundrasing also rewards searches on comparison sites (don't forget those insurance renewals!) and many holiday companies such as Bookings.com and Travelodge. (Maybe travel for work and could raise funds for us?)
Once you are signed up codes are sent through, which gives a donation when you recruit a new member to easyfundraising - so please spread the word to grandparents and friends.
Over the past two years we have received over £1000 which really makes a difference! Every penny mounts up and means that we can continue to fund our school to be the best that it can be.
Keeping Our Children Safe
Parking - Please can we remind you of the messages about considerate and safe parking in the previous newsletter. We have recently received complaints from parents about cars parked on the pavement in Gregory Road, leaving little space for pedestrians to pass and causing people with pushchairs or walkers to have to walk into the road. The offending vehicles have been photographed.
Please can we also take this opportunity to remind you that the school car park is not to be used by parents and carers. This also applies to parents and carers dropping off and picking up from OSCAR Club.
Playground Equipment - Please do not allow your children to use the fixed equipment in the playground at the start and end of the day. We are concerned that children are using equipment that is not suitable for their age group and are often unsupervised. The school is not responsible for the safety of children on the play equipment outside of the school day.