A message from the Headteacher
The end of the summer term has almost arrived and I would like to take this opportunity to thank you all for your support over the past year. It has been another successful year, reflecting the hard work of pupils, staff, governors and parents. We have marked our pupils' numerous achievements in many, many areas both academic and also in the equally important areas of sport, music, art and personal development. There have been lots of highlights but three that spring to mind are our teams' success in the Black Country Tennis tournament and the gym competition, the choir competition at Merry Hill and the wonderful performance of 'What a Knight', which took place this week. We were also delighted that OFSTED recognised what a good school we are! As always, the staff and governors have worked tirelessly for our school: it is a privilege to work with such a talented and hard working team.
We will soon be saying "Goodbye" to our Year 6 pupils. It has been a pleasure to be part of their lives and we wish them all, every happiness in the future; we look forward to hearing of their achievements in the years to come. We also wish to thank Miss Collins for all that she has contributed to The Ridge, especially in raising the profile of P.E. and achieving success with our teams in such a wide range of sports. We wish her all the best in the future at Mount Pleasant. We also send our best wishes to Miss Ciasullo and congratulate her on a successful NQT year. We wish her continued happiness in her new post at Rufford.
We hope that you all have a restful summer and we look forward to welcoming you back in the Autumn, as we continue to work together for a bright future!
Term starts for the children at 8.50 a.m. on Tuesday 4th September.
We are aware of a small number of children who are frequently late, arriving at school after the doors have closed. In September we will be having a tight focus on punctuality and expect all children to be in their classrooms by the time the second bell goes at 8.50 a.m. (Please see our Attendance Policy for what this may mean for those who are persistently late.)
Please can we ask that if you are considering having your child's ears pierced, you arrange for this to be done at the start of the holiday so that the earrings can be removed for P.E. when your child returns to school in September. Thank you for your support in this matter.
Please can we also take the opportunity to stress that we expect all our children to look smart in uniform when they return in September. Please ensure that all children have sensible school shoes (when buying new school shoes, please can we ask that you avoid 'trainer type' shoes) and that hair styles are appropriate. Hair bands and clips should be simple and not 'over adorned'.
All children should have spare underwear (pants and socks) kept in their P.E. kit. This will help in the case of any 'accidents' or where clothing gets wet.
Please label all items of uniform so that it can be quickly reunited with its owner if it is lost.
Congratulations to all our pupils and staff for their hard work which resulted in a pleasing set of outcomes at the end of Foundation Stage, in the Phonics Check, at the end of Key Stage 1 and Key Stage 2. This only comes about through the dedication of the staff, the hard work from children and the support from parents and carers - so thank you all.
A full set of results will be on our website in September but we wish to recognise the success of our Year 6 pupils who did very well indeed in the recent SATs. Thank you to the children and also to all the staff from Kindergarten to Year 6 who have worked so hard with everyone to enable them to achieve such great results.
The un-validated results are shown below in the Key stage 2 comparative report which allows you to compare our school performance at the end of key stage 2 with the attainment across England.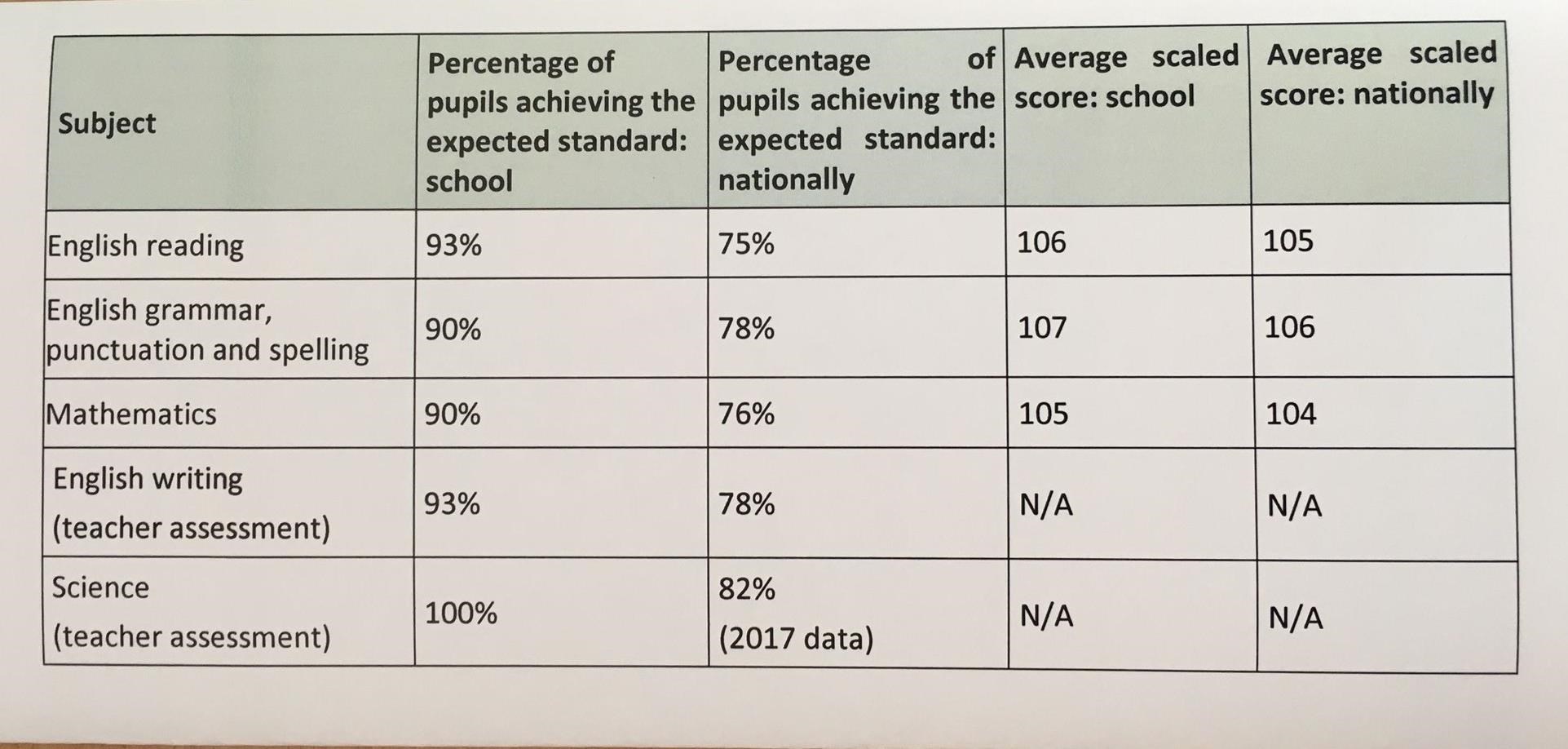 Percentage of pupils achieving the expected standard in reading, writing and maths 90%
We are privileged to have wonderful team in Kindergarten, who give our youngest children a flying start to their journey through school. We wish to thank Mrs. Fereday for doing a fantastic job leading the team over the past few months, following Mrs. Smith's retirement.
In September, there will be a few changes in Kindergarten. First of all, we will be welcoming Mrs. Clare Burley as the new Kindergarten Teacher. This is a newly created post to further enhance the work done in Early Years and to strengthen the links between Kindergarten and school. We are also sorry to announce that Mrs. Timperley will not be returning after the summer break. She has worked in Kindergarten for a number of years and we shall miss her happy smiling face and warm welcome to everyone. We wish her well in the future.
Also from September we will be working towards offering the 30-hour free childcare provision to eligible families. (Please see the information on the school website and visit www.childcarechoices.gov.uk (link below) to check if your child is eligible. For children to attend in the Autumn term, parents need to have applied for their access 11-digit code by 31st August)
To make administration of the funding which sits alongside this easier to manage in school, we have been advised to change the age range of the school from the current 4 -11 to 3 - 11 years. This is a technicality as we already offer the service for three year olds in Kindergarten, but nevertheless, one that we should consult on. If anyone has any questions or comments on this proposal, please don't hesitate to contact us.