A message from the Headteacher
Dear Parents and Carers,
First of all, huge thanks to all of you with your support as we have moved over to a new system for ordering and paying for school meals. Such a big change was bound to come with some hiccups but we are delighted to say that things went relatively smoothly. We are very grateful to Mrs Davenport and Mrs Brown, who, along with staff from Dudley Catering Service and Evolve, worked so hard to ensure everything ran well. The only slight difficulty came where an order had been placed for something that children went on to tell us they didn't like; this can cause children distress. We do understand that children can change their minds but as we don't cook on site, it is difficult to provide an alternative. Please help us by checking that your child is happy with what has been ordered. Thank you. Please remember to continue to order your child's meals 48 hours before the meal is required, or provide them with a packed lunch if you have not been able to do so.
Thank you too for your support for Sports for Champions. Sadly Matt Lee was unwell on the day and so we were visited by the inspirational Pole-vaulter Adam Hague who proudly showed us his Commonwealth Games Silver Medal. Adam put us through our paces and we were delighted to raise £426.00 for school through your generous sponsorship. The children learned a lot from hearing about Adam's achievement and how hard he had worked to be successful.
We have now had our new style newsletters since the start of term and would be interested in any feedback from parents and carers. This can be emailed to info@ridge.dudley.sch.uk with the word 'Newsletter' in the subject. Thank you.
Kind regards
Mrs D Hudson
Headteacher
The Governors met on Tuesday night for their termly Local Authority meeting.
They were pleased to elect Julia Simmonds as our Chair of Governors for the coming year and also create a new Co- Vice Chair role which is being taken by Lindsay Mason and Phil Roberts. The Governors received and discussed a number of reports including those about the performance of the school, attendance, safeguarding arrangements and financial reports. They adopted a number of HR Policies and identified further training that they will be undertaking to support them in their role.
Reminder of Inset Day - 3rd January 2023
Tuesday 3rd January will be an INSET day so the children will return after the Christmas holiday on Wednesday 4th January. On the Inset day staff will be continuing their professional development in teaching handwriting. This leaves one further Inset day to be confirmed and we will let you know as soon as it has been agreed.
Attendance and Punctuality
Earlier in the year the Department for Education issued new guidance for schools to follow to promote good attendance and reduce persistence absence. Good attendance is 96%.
Next week we will be formally writing to parents of pupils who have fallen into the category of being persistently absent (i.e. attendance less than 90%) and also contacting parents of pupils who are at risk of becoming persistently absent.
There is lots of support to help parents and carers where their child's attendance is becoming a concern. This includes
meetings in school to discuss concerns and together agree on both strategies and support that we can implement.
For ongoing medical concerns, we can make a referral (with your agreement) to the school nurse, who can make contact with yourself to offer support.
With your consent, we can make a referral to Early Help, which can help both children and families with varying needs. Early Help is here to find out what is working well for families and what areas they might be worried about; it can help to build on families' strengths and identify any needs where support might be needed. It is an approach that brings people together from different teams and services who work together with the whole family. The main focus is to improve outcomes for children.
(Where your child has an ongoing health condition which is being addressed through a consultant, we are obviously aware of the reasons for their attendance levels.)
This Weeks attendance
Reception - 94.33%
Year 1 – 93.33%
Year 2 – 86.33%
Year 3 – 96.43%
Year 4 – 89.67%
Year 5 – 96.19%
Year 6 – 97.00%
Whole School - 93.28%
Well done Year 6!
Safeguarding is everyone's responsibility. Mrs Hudson is the Designated Safeguarding Lead and any concerns should be shared with her or the Deputy Safeguarding Leads – Mrs Hadley, Miss Beddoes and Mrs Burley.
Counting Down to Christmas - Dates for your Diary
Thank you for your contributions to our Christmas Fayre Mufti Day
| | |
| --- | --- |
| Thursday 1st December | 10.00am - Foundation Stage Christmas Performance |
| Friday 2nd December | 10.00am - Foundation Stage Christmas Performance |
| | 3.30 - 5.30p.m. Christmas Fayre |
| Saturday 3rd December | 9.30 - 11.30 a.m. Breakfast with Santa |
| Tuesday 6th December | 2.00pm Key Stage 2 Christmas Production (Further information to follow) |
| | 6.30pm Key Stage 2 Christmas Production (Further information to follow) |
| Thursday 8th December | 2.00pm Key Stage 1 Christmas Performance (Further information to follow) |
| | 6.30pm Key Stage 1 Christmas Performance (Further information to follow) |
| Friday 9th December | School Christmas Lunch and Christmas Jumper Day |
| Tuesday 13th December | PM - Kindergarten Party |
| Wednesday 14th December | 2.00 - 3.20pm Foundation Stage and Key Stage 1 Party |
| Thursday 15th December | 2.00 - 3.20pm KS2 Christmas Party |
| Friday 16th December | 2.00pm School Closes for Christmas |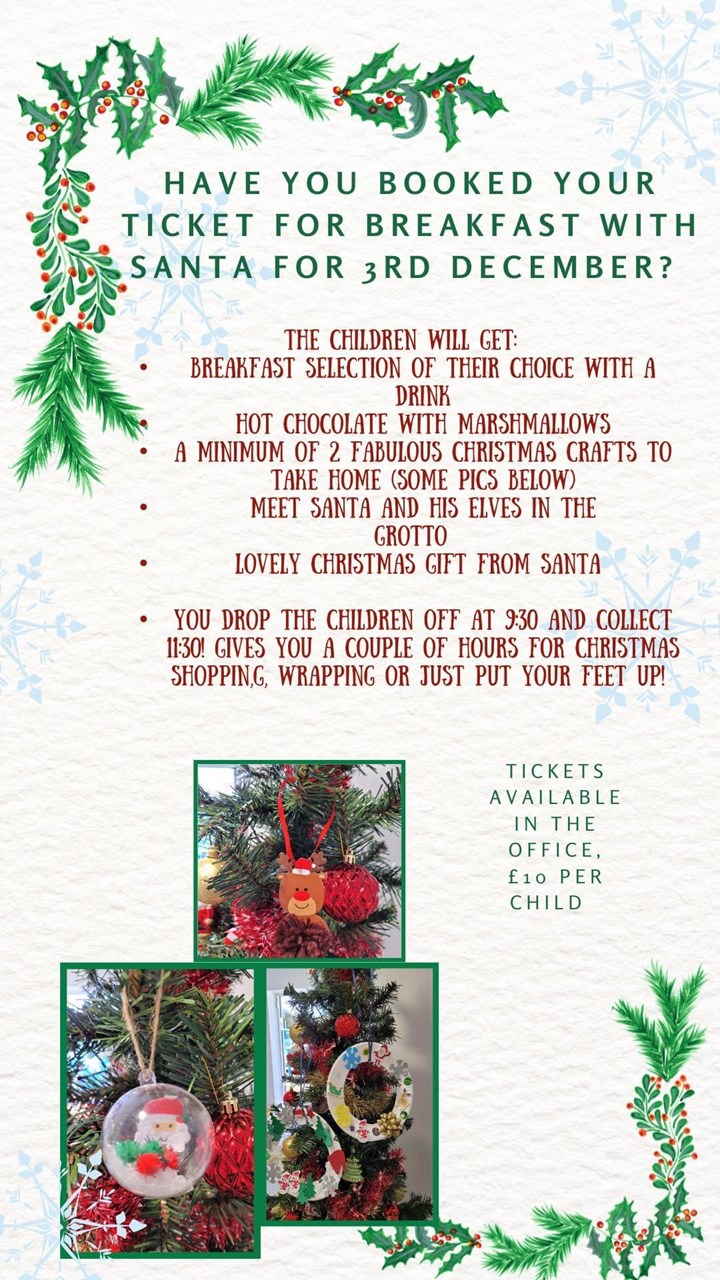 What's Happening Next Week
| | |
| --- | --- |
| Tuesday | • Tag Rugby Competition Finals |
| | • Forest School for Years 3 and Reception |
| | • Year 4 Clarinet Whole Class Lesson |
| Wednesday | • School Tour for Potential Reception Class - Sept 2023 |
| | • Years 1-3 Christmas Craft Club (Group 1) |
| | • Years 5 & 6 Tag Rugby Club |
| Thursday | • 10.00 a.m. Foundation Stage Christmas Performance |
| | • School Tour for Potential Reception Class - Sept 2023 |
| | • Choir (Key Stage 2) |
| | • Years 3-6 Football Club |
| Friday | • 10.00 a.m. Foundation Stage Christmas Performance |
| | • Year 4 Swimming |
| | • 3.30 - 5.30 p.m. Christmas Fayre |
| Saturday | • 9.30 - 11.30 a.m. Breakfast with Santa |