Sports and Games
Sports Award Silver!
We are delighted to announce that we have achieved the School Games SILVER LEVEL Mark Award for the 2018/19 academic year.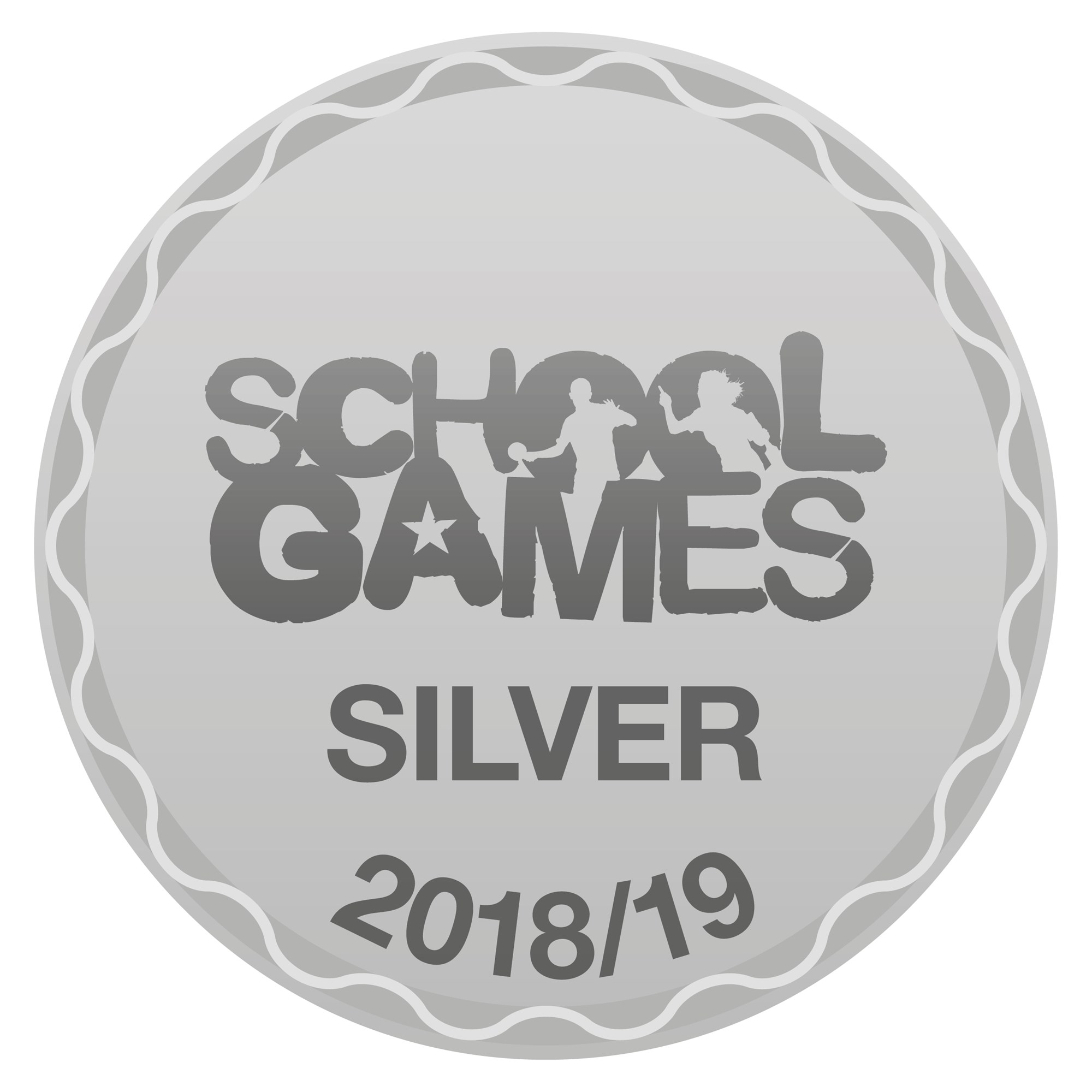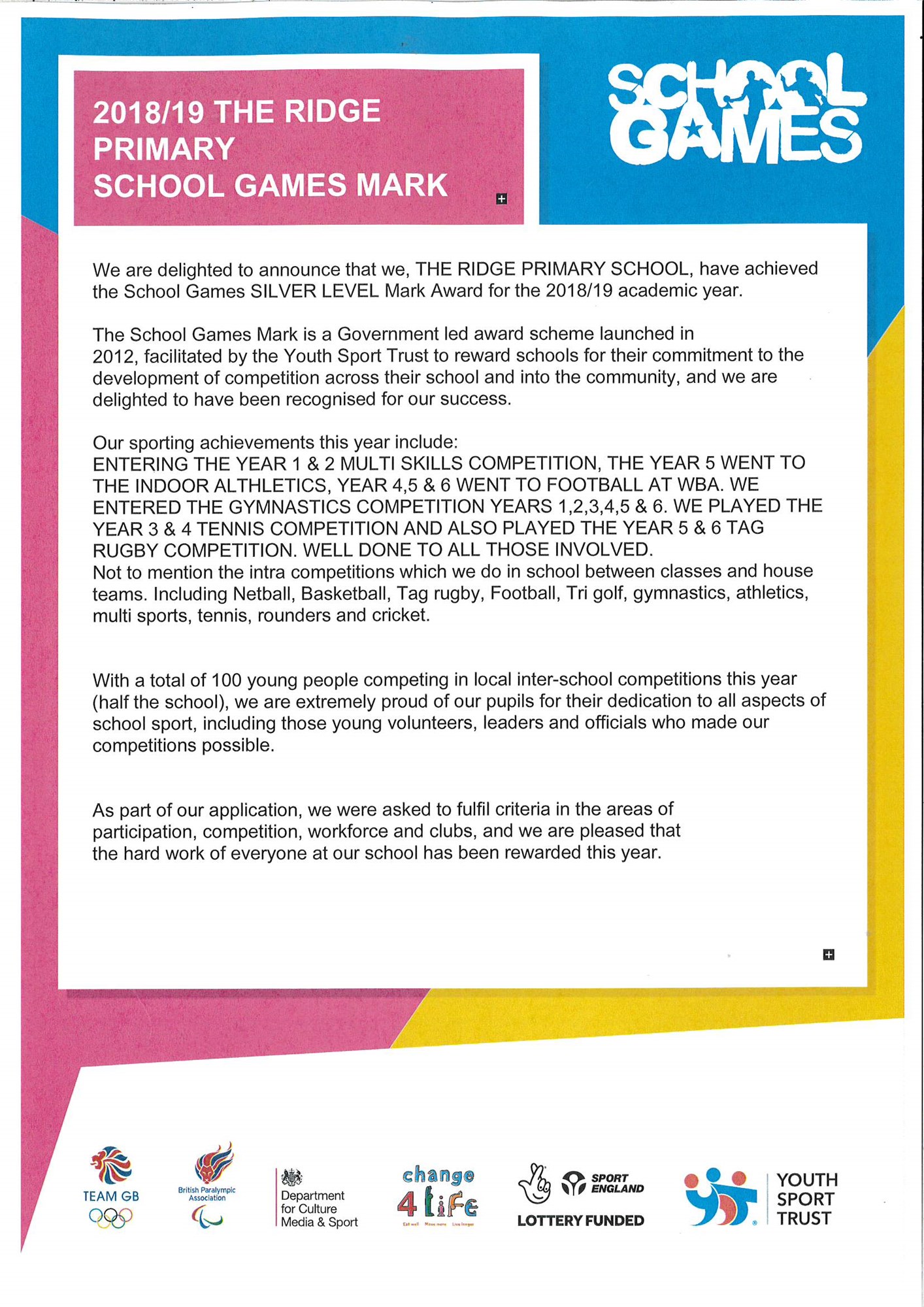 Sports Award Gold!
For our commitments to sports and our participation in a range of competitions, the Ridge have been awarded the Gold Sports Games award. We are incredibly proud of all the children and staff who are committed and engaged in a range of sports throughout the year. Well done everyone, what a brilliant team effort!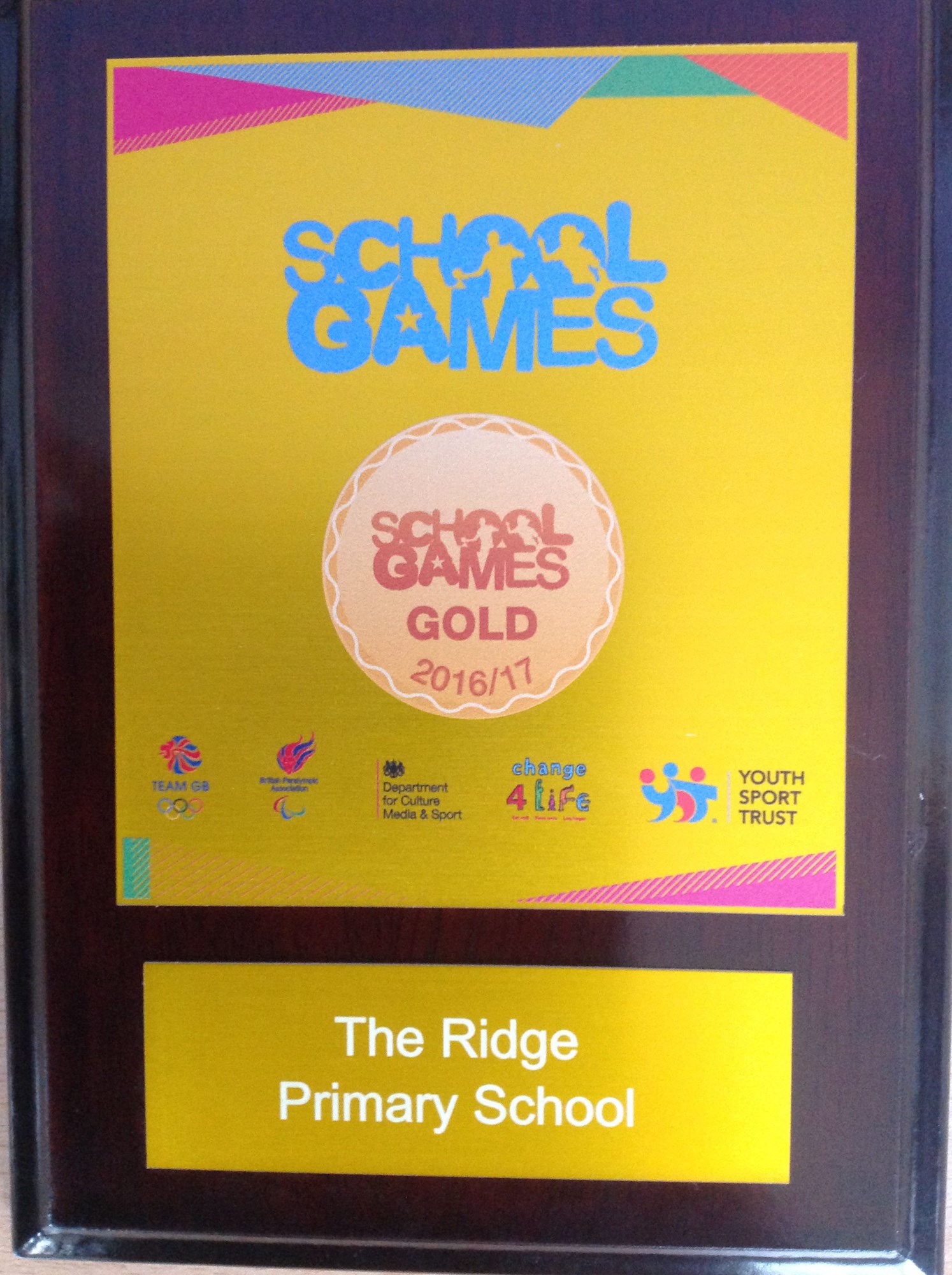 Sports Games Bronze 2015-2016!
Last academic year, the Ridge were awarded the Silver Level Sports Games. Due to increased participation in after school clubs and competitions as well as more leadership roles taken by the children (playmakers and playground leaders), the silver award was successfully awarded in June this year. Well done to all children and staff involved, it is so brilliant to see everyone's enthusiasm for Sport within lessons and outside of school.

Sports Games Bronze 2014-2015!
The Ridge have been awarded a Bronze Level Sports Games award for our participation in Sports and competitions. Well done to all children involved, from cricket to gymnastics, we have some very talented athletes!

P.E Expectations
By the end of each key stage, pupils are expected to know, apply and understand the matters, skills and processes as follows under each Key Stage heading.
Key stage 1
Pupils should develop fundamental movement skills, become increasingly competent and confident and access a broad range of opportunities to extend their agility, balance and coordination, individually and with others. They should be able to engage in competitive (both against self and against others) and co-operative physical activities, in a range of increasingly challenging situations.
Pupils should be taught to:
master basic movements including running, jumping, throwing and catching, as well as developing balance, agility and co-ordination, and begin to apply these in a range of activities
participate in team games, developing simple tactics for attacking and defending
perform dances using simple movement pattern
Key stage 2
Pupils should continue to apply and develop a broader range of skills, learning how to use them in different ways and to link them to make actions and sequences of movement. They should enjoy communicating, collaborating and competing with each other. They should develop an understanding of how to improve in different physical activities and sports and learn how to evaluate and recognise their own success.
Pupils should be taught to:
use running, jumping, throwing and catching in isolation and in combination
play competitive games, modified where appropriate [for example, badminton, basketball, cricket, football, hockey, netball, rounders and tennis], and apply basic principles suitable for attacking and defending
develop flexibility, strength, technique, control and balance [for example, through athletics and gymnastics]
perform dances using a range of movement patterns
take part in outdoor and adventurous activity challenges both individually and within a team
compare their performances with previous ones and demonstrate improvement to achieve their personal best
Useful Links
Many of our children already attend these clubs, but if your child is interested in sports clubs outside school, check out this list of sports clubs in your local area!
| | | | | |
| --- | --- | --- | --- | --- |
| Name of Club | Age Range | When does the club run? | Cost | Additional Info |
| Earls Gymnastics Club | 3-5 | Monday-Thursday 4-5 5-6 6-7 | | |
| | 5-16 | Monday-Thursday 4-5 5-6 6-7 7-8 Friday 8.30-3.30 Saturday 8.30-12.30 Sunday | | 0121 550 7611 earlsgymnastics@hotmail.com www.earlsgymnastics.org.uk |
| Stourbridge Cricket Club | | 6.30-8.30 Fridays | Membership fee and then £2 per session | Contact Mikesh 07533331215 Harilal Jivan Patel 07772 093071 |
| Pedmore Cricket Club | Under 6's-Open age | Friday 6-8pm or Tuesday 6-8:30pm | £40 for the season | April to August is outdoor training. Indoor training at Ridgewood. £2 per child during Winter. |
| Wollaston Lawn Tennis Club | All ages and abilities | Saturday 9.30-1.30 Wednesday 5.30-7.30 | £38 for 6 weeks | Richard 07403 234078 |
| Stourbridge Rugby Club | 5-11 Girls Touch Rugby | Sunday 10.30-12 | | 01384 395000 linda@stourbridgerugby.com |
| Halesowen Golf Club | All | | £35 for 6 hour lesson | 0121 5013606 office@halesowengc.co.uk |
| Stourbridge Swimming Club | 3 and up | Friday evening at Wollescote school Sunday evenings at Dudley Leisure centre | £15.50 per month | bernardsimkins@stourswim.co.uk |
| Halesowen Swimming Club | 5 to 7 Learn to swim 6 to 9 Improvers | Friday evenings at Halesowen Leisure Centre | £30 joining fee £51 for 13 half hour lessons (quarter) | learner.pool@halesowen.org.uk Email to join waiting list or go to pool for trial |
| Wollaston Village Football Club | Early Years/KS1 and KS2 | Tuesday 6-7 pm (KS1) and Wednesday 6-7:30 (KS2) | Subs £3 | http://www.wollastonvfc.com/ |
| Fusion Dance Factory | Ages 3 and up | See website for class times | | https://www.fusiondancefactory.com/ 07917 356888 |
For a full, comprehensive list of all sports clubs available in the local area, see this list: