A message from the Headteacher
We have been delighted to welcome Hazel Hewlett from Corum Life Education in to school this week. Hazel has led workshops with each class on a range of topics, which promote personal, social and health education. These have included taking care of ourselves, both physically and mentally, self-image, friendships, managing feelings and peer pressure. Hazel's feedback about our children was wonderful: she said that the children showed great maturity, gave her brilliant responses and asked well thought out questions. She added that 'their depth of understanding was mind-blowing! '. Hazel works with schools all over the West Midlands so her comments about our children should make everyone feel proud.
We have also seen those qualities displayed through our Act of Remembrance today. The children have taken part in assemblies, webinars and discussions which have taught them about who we remember and why it is important for us to continue to mark the sacrifice of people in the past and those who serve today. The children were very respectful of the silence we held this morning.
Over the past few weeks it has been lovely to welcome parents as they go through the process of applying for school places for their child to join Reception next September. Again, the feedback about our children's behaviour, politeness and focus in lessons as we have toured the school, has been very pleasing. The children are definitely a credit to you!
Kind regards
Mrs D Hudson
Headteacher
Children In Need - Friday 18th November 2022
The theme this year is 'The Great Spotacular'. School Council have been discussing lots of different ideas of how to raise money and have decided that children can come dressed up if they would like to take part. School Council have come up with the following ideas, however you may also have your own:
Wear spotty clothing

Create your own spotty clothing by colouring in spots on an old t-shirt

Dress as an animal with spots

Come dressed as someone in the 'spotlight'. For example a famous person

Wear something linked to Pudsey Bear
If your child would like to take part then please can they bring a £1 voluntary donation* into school with them on Friday. We look forward to seeing the children dressed up and raising lots of money for such a good cause.
*We are very conscious of the increasing cost of living pressures experienced by families and recognise that school events, fund raising and with Christmas approaching, there are lots of demands on people's finances. We believe it is important for our children's personal and social development to support charities and we need to continue with our school fundraising to help give the children the added extras that we want to, such as paying for our Choir and events such as Christmas parties. However we don't want anyone to feel under pressure so please only contribute in whatever way you feel able. Please speak to us in confidence if you need some financial help: we are able to access some support for families who may be struggling.
Reminder of Inset Day - 3rd January 2023
Tuesday 3rd January will be an INSET day so the children will return after the Christmas holiday on Wednesday 4th January. On the Inset day staff will be continuing their professional development in teaching handwriting. This leaves one further Inset day to be confirmed and we will let you know as soon as it has been agreed.
Attendance and Punctuality - Coughs and Colds
We are entering coughs, colds and norovirus season. Please help us to minimise spread by reminding your child of good hygiene routines such as coughing into their elbow, using tissues - catch-it, bin it, kill it – and hand washing. Children suffering from coughs and colds do not need to stay away from school unless their symptoms are making them too unwell to learn or they have Covid.
For cases where children have vomited or have diarrhoea, they must remain at home for 48 hours after the last episode. Again, good hygiene routines will help stop the spread of these nasty illnesses.
Thank you for your support.
This Weeks attendance
Reception - 93.33%
Year 1 – 96.00%
Year 2 – 96.67%
Year 3 – 96.07%
Year 4 – 98.33%
Year 5 – 94.83%
Year 6 – 94.33%
Well done Year 4!
Meet A Governor - Julia Simmonds, our Chair of Governors
Hello, I'm Julia Simmonds. I joined the Governing Body originally as a parent governor in 2001 when my daughter was in Year 1, and became a co-opted governor when my daughter left The Ridge to go to secondary school. I became Chair of the Governing Body in November 2019.
I am now retired but I worked for many years for Dudley Council in the Health Promoting Schools team, and then as the Strategic Lead for Partnerships. The elements of my work that have helped me most as a governor are my experience in leading the health promoting schools team which involved providing advice and training to schools on how to incorporate health and well-being into school life. My strategic planning role involved working with a wide range of organisations in both the statutory and voluntary sectors to encourage and support joint projects to promote the health and well-being of communities across the borough.
I became a governor because I have always been passionate about the importance of health in children's learning, particularly their mental and emotional health. As a parent I wanted to offer my skills and knowledge to help the school in ensuring that its ethos and culture promoted the children's emotional health and well-being to support their learning.
I have continued to champion this throughout my years as a governor, both in relation to the pupils and the staff.
As a governor I have learnt what a complex process running a school is. It involves so many different aspects - it's not just about teaching! Getting the balance right between creating a happy, caring environment in school whilst ensuring that targets are met and children are supported and encouraged to reach their full potential is an ongoing challenge. I am constantly impressed by our staff, who have high expectations of both the pupils and themselves and are constantly striving to maintain high standards in teaching, learning and behaviour.
I enjoy working with the team of governors to use my skills and knowledge to act as a critical friend to the staff, and to contribute to the oversight of planning and target setting that is such an important part of our role.
I also enjoy being in school to see first hand what the children are learning. In the past I have been on many school trips and attended many assemblies, not to mention numerous Amble Rambles and I am always struck by how well behaved and confident our pupils are - something that we should all be very proud of.
Safeguarding - Anti-Bullying Week
Safeguarding is everyone's responsibility. Mrs Hudson is the Designated Safeguarding Lead and any concerns should be shared with her or the Deputy Safeguarding Leads – Mrs Hadley, Miss Beddoes and Mrs Burley.
We have a very busy week in school next week as it is Anti-Bullying week. The children will be doing lots of work on this over the week linked to the theme of 'Reach Out – Let's Come Together and Reach Out to Stop Bullying.' To raise awareness of Anti-Bullying and to celebrate our uniqueness, the children are encouraged to wear odd socks to school on Monday. There is no donation of money needed for this.
The Anti-Bullying Alliance has some useful support for parents and carers.
https://anti-bullyingalliance.org.uk/anti-bullying-week/parents-and-carers
Next week is also Road Safety Week and the children will be learning about how to be safe pedestrians.
Counting Down to Christmas - News from The Ridge Friends Association (RFA)
Parents and carers have been busy preparing for Christmas and we are so grateful for their hard work which help makes the festive season so special in school. They have been in school this morning wrapping and ticketing tombola prizes and preparing crafts for Breakfast with Santa.
Christmas Fayre Mufti Day - Friday 25th November.
Please can contributions of chocolate and bottles – especially those which contain alcohol! - be made in return for a non-uniform day. (Glass bottles should be brought into school by an adult, please.)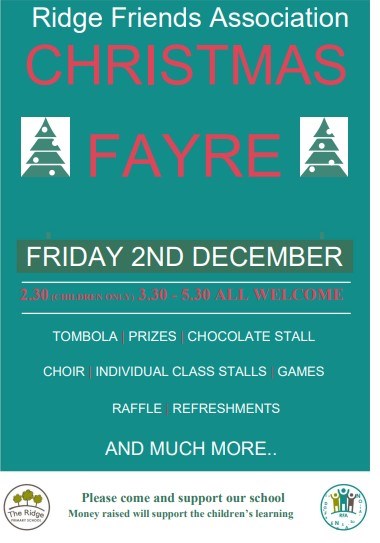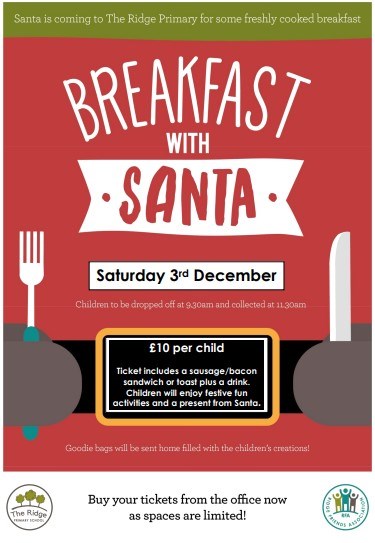 Sports for Champions Reminder
The sponsorship form can be completed on-line here.. https://www.crowdfunder.co.uk/p/ridge , or on the paper form recently given out. If you are completing it on paper and sending money into school this MUST be returned to us by 15th November.
Thank you.
What's Happening Next Week
| | |
| --- | --- |
| Monday | • Anti-Bullying Week begins. Odd Socks Day - There is no donation of money needed for this. |
| Tuesday | • School Tour for Potential Reception Class - Sept 2023 |
| | • Archery Tournament at Windsor High School |
| | • Forest School for Years 3 and Reception |
| | • Year 4 Clarinet Whole Class Lesson |
| Wednesday | • Years 5 & 6 Tag Rugby Club |
| Thursday | • Choir |
| | • Years 3-6 Football Club |
| Friday | • School Tour for Potential Reception Class - Sept 2023 |
| | • Year 4 Swimming |